Joseph & Mary Eliza Pollock Family
Mary Eliza Alexander, the daughter of Sanford Alexander, married Joseph Cephas Pollock, the son of Redden and Margaret Morgan Pollock. Mary Eliza and Joseph Cephas had twelve children, six daughters and six sons. Mary Eliza's grandchildren described her as one of the sweetest grandmothers anyone could have. Mary Eliza baked teacakes for her grandchildren and made dresses for them. She was a very loving woman with long hair and taught her grandchildren right from wrong.

Mary Eliza believed in taking care of other family members. She raised her grandchild, Irene Pollock Roberts Rush, after her mother, Ella passed. Mary Eliza had three sisters: Maranda Alexander Greer-Donald, Mary Louise Alexander Hall, Sarah (Daughty) Alexander McClain, and six brothers: Louis Alexander, Frank Alexander, Miles Alexander, Jerry Alexander, John Albert (Bud) Alexander and Mike Alexander.
Mary Eliza's husband, Joseph Cephas was a master Masonic and was very neat and believed in fixing himself up. He owned a large farm in the Liberty Community where he and his wife, Mary Eliza raised their children and believed in education. They read the Meridian Star newspaper and shared their reading with their children. Joseph Cephas and Mary Eliza stressed to their children to always take care of what you have.
Mary Eliza died in 1941 at the age of 72 and Joseph Cephas died September 19, 1945 at the age of 79. They are buried in the Liberty Community in the Liberty Methodist Church Cemetery. The Children of Joseph Cephas Pollock and Mary Eliza Alexander Pollock:
The Twins
(Cleavander (Cleavie) Pollock Simmons and Leavander (Leavie) Pollock Rush lived in Philadelphia, MS most of their lives.


Cleavander (Cleavie) Pollock Simmons was the mother of two children: Curtis and Lillie.


Leavander (Leavie) Pollock Rush was the mother of two children, Curtis and Lillie. Lillie lived in Philadelphia not far from her mother's old home and cousin, Pauline. Leavie married Richard Rush. They had a son, Billie Rush and several stepchildren.


Lula married J. W. (Buddy) Peden, a wealthy landowner and farmer. They had 16 children and 5 of them died in infancy or in early childhood. Lula was known as the beloved mother of the "Peden" boys. * (more information provided below)


Lillie Jane Peden married Monroe Rush and they had a daughter, Thelma Rush. Thelma was raised by her grandparents, Lula and Joseph Peden.


Ella Pollock Davis was the mother of 11 children including Irene Pollock-Rush and Curtis Davis.


Allie Pollock Trussell had a daughter, Pauline Nunn of Philadelphia, Mississippi. Allie lived in Laurel Mississippi and was a very active member of the "THE ORDER OF THE EASTERN STAR."


Quincy Pollock married Bessie Griffin and had 12 children. His children live in the Liberty Community. Quincy was a farmer


Walter (Walt) Pollock married into the Davis Family and was the father of four or five children. His daughters lived in the Philadelphia, Mississippi Area. As a young man Walt Pollock was killed in an accident in a Plant.


Alonzo Pollock lived in Indianapolis nearly all his adult life. He was the father of three children. His youngest daughter, Cheryl lived with Pauline Nunn for most of her growing up years.


Eugene Pollock married an Alexander (no relation) to the Branch (a co-incidence). He lived in East St. Louis, Illinois before his untimely passing. His three children were raised and lived with his sister Lula Pollock Peden. The children are Mary, Cora and Joseph Pollock.


Napoleon and Willie (Will) Pollock left home at an early age. There is very little information on them.


*Lula and John W. (Buddy) Peden raised their children on the Peden Homestead and together they worked the land, cared for livestock and enjoyed the fruits of their labor. The family fellowshipped together on the Sabbath day at the Mount Sinai Baptist Church, building a strong foundation based on their Christian values and love. Four daughters lived to adulthood: Lillie Jane Peden, Beatrice D. Peden, Genlia Peden, and Juanita Peden. Lillie Jane Peden married Monroe Rush and they had a daughter, Thelma. After Lillie's untimely passing, Thelma was raised by her grandparents, Lula and John W. Peden. They had seven boys: John Willie Peden, Joe Calvin Peden, Johnnie P. Peden, Waukaye Peden, Franklin D. Peden, Lester Peden, and Levon Peden. Lula was known as the beloved mother of the "Peden" boys and was a caring mother who raised her sister, Ella's child, Irene Pollock-Rush, and her brother, Eugene's children, Mary, Cora, and Joseph. Lula raised her son, Lester Peden's two sons.
Lula Pollock Peden is the granddaughter of the family patriarch Sanford Alexander and the daughter of Mary Eliza Alexander Pollock. Her openness of home, heart and unconditional love empowered her to become a loving mama to additional family members. She reached out and embraced cousins, nieces, nephews, and grandchildren and gave them a home to call their own. Lula Pollock Peden was truly an example of strength and perseverance.
Many outstanding descendants with exceptional talent and a hard-work ethic have come from this branch of the Sanford Alexander Family. This branch takes great pride in hosting the Alexander-Shannon Reunion.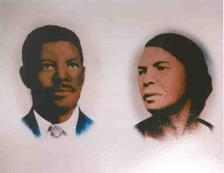 Joseph Cephas Pollock and Mary Eliza Alexander
---