Notable Descendants
AUGUSTA RUSH ALEXANDER SHANNON BRANCH
Hester Lee Alexander Nelson
A Notable Descendant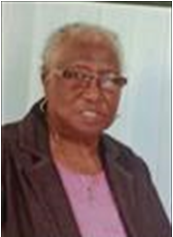 Hester Lee Alexander Nelson was born on September 12, 1930 in Kemper County Mississippi. She is the daughter of Augusta Rush and Hester Alexander. As one of eight siblings, Hester has been a pioneer in her family and community. She is a rare jewel who is known for helping anyone with a need. Providing warm meals, financial donations, a place to live, or car rides are just a few of the ways she has helped others. She has provided a home and served as a caretaker for many ailing family members.

Hester is known for speaking her mind, and believes that a person should always speak the truth. When you enter her home, expect to be asked if you are saved, go to church, and if you have a job.

She was very instrumental in coordinating the first Alexander-Shannon Family Reunion in Ford Heights in 1977-1978. She has since been involved with making sure the family reunions continued with the help of her husband, Andrew Nelson, who she has been married to for over 75 years, and other family members. As a resident of Ford Heights, Illinois, Hester served on the District 169 Ford Heights school board for four years, and received the longtime resident award from the city of Ford Heights.

Hester worked for the Ford Motor Company for over 30 years, before retiring as the company's cafeteria manager. She has always been business minded. She owned and ran several successful family businesses, including a restaurant and gas station. She also renovated and leased out homes in her community.

As an active member of Christian Valley in Ford Heights, Illinois, Hester is a strong believer in serving the Lord and her church. She has served on numerous committees including the usher board, mother board, and finance committee. She also received the Christian Valley Outstanding Mother of the Year Award.

Andrew and Hester were blessed to raise six children: Corine Nelson Simmons, Gusta Nelson Allen, Alonzo Nelson, Dorothy Nelson Lilly, Acy Shannon, and Jeanette Nelson. Hester has 13 grandchildren, 20 great-grandchildren and 10 great-great-grandchildren.
KUTCHER THREEFOOT ALEXANDER, SR. BRANCH
Callie Alexander Robinson
A Notable Descendant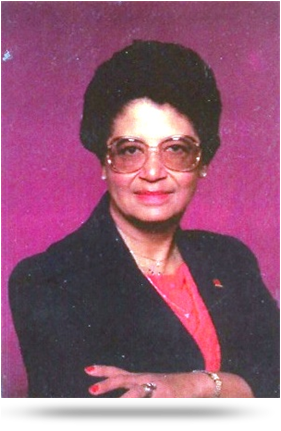 Callie Alexander Robinson, the great granddaughter of Sanford Alexander and the granddaughter of Louis Alexander and the daughter of Kutcher Threefoot Alexander. Callie is one of the historians for the Kutcher and Margaret Alexander branch and she has served as Coordinator for the Kutcher Threefoot Alexander family in planning activities for the Shannon-Alexander Family Reunion when hosted at the Pearl River Resort, Choctaw, MS.

Callie is the daughter of Kutcher Threefoot Alexander and Margaret Roberts Alexander and is the seventh child of twelve children. Growing up in a household of ten siblings, Callie is a caring and loving individual. With five younger siblings, Callie shares lots of precious loving memories and believes in family and loves using her educational background and organizational skills in representing the family in all events.

Callie organized and continues to host Community Thanksgiving Dinners for family and community members at Little Rock Community Center every other year. Additionally, she and Newton built a Pavilion overlooking a pond and the home of Kutcher and Margaret Alexander; this homestead site is the original site of the Family Patriarch Sanford Alexander and her grandfather, Louis Alexander. D&J Pier and Pavilion is used for family celebrations and community events.

After graduating from Little Rock High School, Callie furthered her education at Piney Woods Jr. College. She then obtained a Bachelor's Degree in Education from Alcorn State University, Master of Education and Education Specialist Degrees in Education Leadership, both from Mississippi State University.

Passionate about the success of children, Callie serve 42 years in the Kemper County Public Schools System as both a teacher and an administrator. After retirement, she would say. "I have seen many children cross the stage of graduation, I am looking at children now who are doctors, dentists, scientists, teacher's lawyers, and engineers…. And they are doing great!"

Callie and her husband, Newton B. Robinson worship at the Unity Springs Missionary Baptist Church, in the Little Rock Community (Kemper County), Dekalb, MS. She has been a member since early childhood attending service with parents and siblings weekly. Callie and Newton also raised and fellowshipped with their children in Unity Springs Missionary Church building a strong religious background. Callie has been very active in the church serving in many capacities.

Beside Callie's outstanding contributions to the Kemper County School system and giving back to the community, her legacy continues through her children, Newton Robinson, Jr., Dr. Denise Julius, Dr. Jackie Stennis and Judge Lita Moore-Johnson as a beacon of light for future generations.


MARSHALL THREEFOOT ALEXANDER, SR. BRANCH
Esther Ruth Alexander Uyeda
A Notable Descendant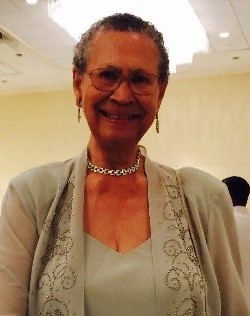 Esther Ruth Alexander Uyeda is the fifth of twelve children born to Marshall Alexander Sr. She is a woman who was born before her time because she was one who valued the importance of education and self-advancement in an era when women were not raised to do so. This began from an early age as she became one of the leaders in her family. She rose before dawn and found herself up to her elbows in flour as she made biscuits for her siblings before heading out to the fields. While doing so, she never complained but at the same time, she knew that there more to life.

With dreams of a brighter future in mind, she set her sights on the big city and headed there with her first husband Johnnie Peden (JP). She often took in family members and helped however she could, family members like Joseph Calvin Sr. and Voniel Peden, Waukaye and Gwen Peden, Lester and Annie Peden, Marshall Alexander Jr., and Alvin Alexander. She often shared a room with 10-12 people. She worked hard and eventually was able save enough for a down payment on a house and she began her family of five. While raising her children, Sherline, Patricia, Sherman and Claudette she saved and sacrificed to send them to good Catholic schools which later bore fruit as they went off to become professionals with prestigious careers.

During this time, Esther married Bob Uyeda who helped her on her journey and encouraged her to return to school, allowing her to advance in her career at Sears. Her union with Bob gave her a son, Robert Uyeda. While moving up in her new career, she was able to continue to focus on her children while at the same time expanded her family and continued to be a role model to her nieces, nephews and grandchildren.

As a child, I remember visiting my grandmother during most school holidays. The journey there was always full of anticipation and excitement because I knew that she would fill my belly with wonderful homemade biscuits and exciting stories about her life in Mississippi.

The days spent at her house in Schaumburg I knew that I would learn how to make many wonderful things in the kitchen because there was nothing that grandma couldn't make: homemade pizzas, peach cobblers, tamales or German Chocolate cake. Although the time spent with grandma was often centered around fun, she also asked about homework and grades and if I did not speak of A's, she reminded me that I needed to work harder. Even though I did not always want to hear this because I was content with having received B's, she made me realize that I should always strive for top marks and nothing less.

Later, she rewarded me for my hard work when I finished Howard University. I remember arriving home from class one evening, only to find a message on my answering machine with her voice telling me just how proud she was of me and that she was sending money to buy a new car for graduation. This gift was unexpected and made me realize just how much I meant to her. That is the kind of person that grandma is. She did not always verbalize how she felt but she always did so with her actions. Another time when I was preparing to marry. She flew to Paris to fill the role of mother and grandmother which meant a lot and she did this without having to be asked. I am sure that others have similar stories such as her granddaughter Nicole, whose son needed a change of environment and Esther took him in for a short time in order to give him a fresh start at school.

All of us who have had the opportunity to know Esther understand just how wonderful and special she is and how she has continued to touch hearts over and over again. I could not have asked for a better role model and grandmother.

Miiko Anderson
(Esther's granddaughter)
MARY ELIZA ALEXANDER POLLOCK BRANCH
Joseph C. Peden, Jr.
A Notable Descendant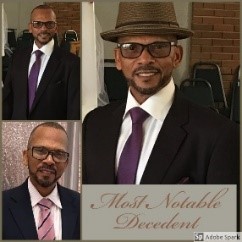 It is my pleasure to recognize our brother Joseph C. Peden, Jr. Joseph is the family Patriarch for Joe C. Peden Senior's Clan. He is grandson of Lula Pollock Peden and the great-grandson Mary Eliza Alexander Pollock, who was a daughter of Sanford Alexander, Sr.

Joseph graduated from Lewis University with a degree in Spanish. He has also studied theology and psychology. He has travelled the many regions of the world and speaks Spanish fluently. He worked for Amtrak for over thirty years before retiring.

Joseph is very strong in religion. He learned preaching at an early age from his father. He is often called "Preacher." He will surely be giving a sermon if there is a Peden family funeral. He can quote a fitting scripture for any occasion from memory at a drop of a dime. Joseph's religious studies include Baptist, Catholic, Jewish, Muslin, and Hindu faiths. He respects all religions and understands their origins.

Joseph is very nurturing and always has his doors open to family. When Joseph's mother became ill, he moved her from Chicago to Los Angeles. He was one of the principle caregivers to his mother. He took in his younger sister and two nieces at the same time providing them with guidance and life lessons, allowing them to develop their own paths. His mother returned to Chicago and died from leukemia in May 1990. Cousins Monica Peden and Robert Uyeda lived with Joseph when they first moved to Los Angeles.

Joseph has demonstrated leadership by making many sacrifices, which he made look effortless. He has helped family members both financially and supportively. He has paid mortgages for his siblings when they were in need. Joseph has visited family members who were incarcerated, encouraged them, letting them know they were not forgotten. All his siblings, nieces, nephews, cousins and many relatives have reaped the benefits of his love of family. Joseph goes whenever there is a family crisis, from Los Angeles to Boston, DC, Chicago, or Mississippi. He is always available to assist the family in time of need.

Joseph's words of encouragement make the difference in pushing us through life's challenges. We are the living expression of "God's kindness." In other words, kindness in our face, kindness through listening, kindness in our walk, kindness in our giving, and lastly, kindness in our heart. Joseph C. Peden Jr. is the Patriarch, the male head of the Joe C. Peden family tribe. Thanks to your loyalty and dedication to every life you've embraced. We are stronger, wiser and more loved. We honor you for your unconditional support and the love you've given so freely throughout your life. We appreciate all the countless hours away from your home assisting someone else in need. Please know you are our HERO and if you live just as fast as you bless others you will receive it back with an overflow.

We thank our ancestors; grandparents, John W. Peden and Lula Pollock and our parents Joe C. Peden Sr., Voinel Peden who instilled their legacy of love and wisdom to our brother, Joseph Peden Jr. and made him the person he is today. "We salute our brother, Joseph" as the most NOTABLE DESCENDANTS of MARY ELIZA ALEXANDER POLLOCK BRANCH.

"We love you, our brother, Joseph Peden Jr., from all your siblings, nieces/great nieces, nephews/great nephews of your family."

Veronica Peden-Moy